hi! i'm justin. i like making things.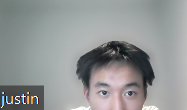 in particular: absurd, whimsical and playful things. the term i've adopted from my high school newspaper in an attempt to describe this is "backpage content". will report back when i figure out what that means.
these days i usually find myself dabbling with interactive web content while trying to get into physical computing and design. i don't really know what means, but it sounds legible enough.
previously, i wrote a lot of essays. most of them were bad. i've since moved the few i like to substack. i also make videos from time to time. you can find them on my youtube channel.
i like new friends. say hi! (wherever you prefer)